Shipping Policy
Shipping and Handling
Dear Customers, we have a very straightforward Shipping policy, you and we are adjusted by the policies of the respective carries you choose or we use as default to deliver your purchases.
The order will be processed the next day after payment is completed. (We normally take one day*)
Our daily Print deadline is at 3:00 p.m. EST, all orders received before that time have a big chance to be processed the same day, ask for more information.
The buyer is responsible for all shipping charges, including returns, tax, and duties.
We deliver orders worldwide, price and delivery time may vary depending on destination and order size.
*Some items like domed decals take 2-3 days to process if the item is low stock or a "listing project" we will contact you to calculate a deadline and communicate accordingly to the registered email on your payment.
How much does the cost Shipping?
To calculate our charges please, add the items to purchase in your shopping cart and make calculations by choosing your country, State, and Zip-Code.

Shipping charges chart
Domestic orders: All charges are calculated by the total price of your order.
FREE SHIPPING to all U.S.A. orders. All free shipping orders will be sent via USPS First Class Mail, delivery time is 5-7 days. Not valid for custom orders. Offer for a limited time only and only is valid for the first attempt to send you an order. If the order returns because of an "Invalid address", the customer will assume shipping and handling charges for the order to be resent.

U.S. Postal Service
First Class Mail
U.S. Postal Service
Priority Mail
U.S. Postal Service
Express Mail
5-7 Days
2-3 Days
Next Day (24 hours)
Keep on mind processing time on your order, that most orders take 1-3 business days processing.
Please contact us for more details. If you choose First Class Mail or Priority Mail be aware that this is a cheap option but not the best if your package gets lost or damage (2% cases).
---
Domestic FedEx Overnight Service and Transit Time
To select this option please contact us, Rush Order fees may apply.
Some order needs to be placed before Lunchtime EST. to meet the deadline, our Printing deadline is at 3:00 PM EST. If you placed your order after 1:00 pm EST it will be processed during the day and released for mailing next day.
| FedEx First Overnight® | FedEx Priority Overnight® | FedEx Standard Overnight® |
| --- | --- | --- |
| 08:30 am Next Day | 10:30 am Next Day | 03:00 pm Next Day |
Remember we are not liable for delays caused the Shipping Carrier.
Buyer assumes all responsibility and understands that are subject to TOS of the service option chosen.
---
This is how you can calculate shipping using Paypal Checkout.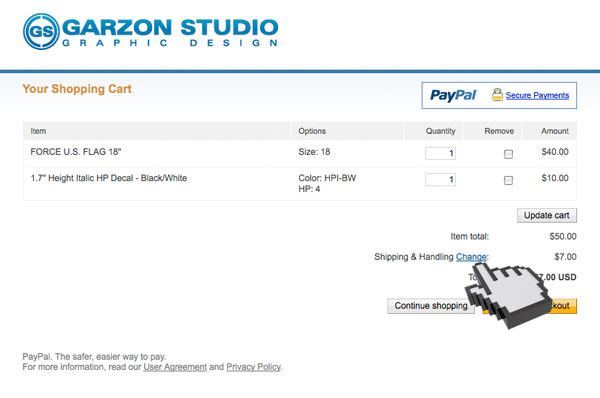 Once you click on the hyperlink you will be able to enter your zip-code or change your destination country. Click on update and total will be shown on the screen.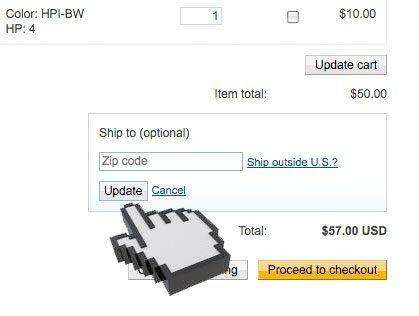 Tracking Number
Once the order is released to shipping, you will receive a tracking number via email; make sure you have entered your email correctly in your order to guarantee to receive notifications.
Check your spam folder to see if our emails are there.
Whitelist our emails by adding us as a contact, in the case was spammed by your service provider.
If you paid with Paypal, it will be posted on your transaction history.
You may experience delays from USPS no matter the service you choose, you are subject to terms of service with the carrier you choose.
If you do not have a tracking number available, "Check Order Status".This same link is at the bottom of every single page on this website.
Free Shipping orders do not include a tracking number or tracking service, appeal to patience if you choose this option.
Carrier
Our default carrier is USPS United States Postal Office.
If you want to use another carrier such as FedEx, UPS, DHL, or others please send us an e-mail for arrangements before you submit the order.
International Orders
USPS AUSTRALIA/NZ: First Class International Suspended due to COVID restrictions
DHL is Now Available Worldwide See the option while checkout
After COVID we are experiencing long delays of up to "90 days" for delivery. some carriers stop offering delivery services to some countries, if this is your case as we can also make it work another way if you or your company have an account with any trusted carrier such as DHL, FedEx, ups, or similar
We can make arrangements with your carrier, so they can pick up the package and send it to you.
You will be billed directly from the carrier and will make all the processing to import if required. This way works perfectly for some boat dealers and boat manufacturers.
By default, to facilitate delivery, we offer USPS where available:
United States Postal Service (USPS):
Express Mail International - Delivers in 3-5 business days (Recommended)
Priority Mail International - Delivers in 6-14 business days
First Class Mail International (Standard Shipping)- 1-3 weeks
We recommend using Express Mail for all International orders, be aware, that if you choose Priority Mail or First Class Mail your order may experience delays up to one month to get to its destination or may get lost in transit in the worst case.
We are not responsible for the package once the carrier has received it, please contact your carrier and verify your tracking number daily.
If you want to use a reliable carrier (such as UPS or FedEx) please send an e-mail before submitting your order.
Here you can check the status of your international package to get more information: https://www.17track.net/en enter your tracking number to identify your connection carrier.
Do you have any cheaper option to send my order?
We can send your order via First Class Mail with the U.S. Postal Service, this is a nonreliable option and there is a high risk to get your decals lost during the transit, also it would take months to get to the destination, and worst case scenario, get lost or never get there. This is why we prefer to use a better reliable option even the ones we offer, just for being international will have a lower risk to get delays or lost except on Express Mail that is tracked step by step and upgrades online continuously.
Combine Orders
Yes, you can combine orders, only if they are submitted the same day and is subject to approval. Please send an e-mail with your request.
Unfortunately, we cannot combine orders as default. Each order has a specific reference number labeled on the package(s) and it creates unnecessary difficulty in keeping track of the orders.
Shipping charges refunds
Once the shipping label is printed and the package released to send your order, we will not refund shipping charges. Your fast communication is key.
What do I do if my order is damaged during shipping?
Please notify us immediately of the damaged shipment.
Please send us a picture of the damage, including your order information.
We will review the information, file a claim and respond within 24 hours.
Item will be re-sent.
We are not responsible for the delay caused by the carrier, we will not expedite the package or upgrade the shipping service, we will send it as ordered.
ATTENTION: If decals are used after the package is received, you waive the right to submit a claim and it will be considered as damage during installation.
Claims for lost and non-delivered packages via First Class Mail or Priority Mail
If this is your situation, we understand your frustration it is rare to happen, in most cases your address is wrong, a mailbox is not available, or is been refused by the recipient, Sometimes the carrier fail to scan the package.
Please contact us to review the options. if the mistake was on your side, shipping charges apply to re-send your order.